H
ello, my name is Kc Dunn, thanks for your interest in our recording studio. I hope you will find the information on this website helpful in your search for a recording facility. This music studio was started 24 years ago here in a quiet part of Arvada Colorado with a minimum of equipment (
a little mixer, a few decent Mics & an 8track Cassette recording machine
). I just graduated from the University of Colorado in Denver where I received a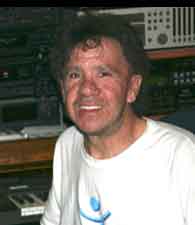 Bachelor of Science degree in Music Engineering. I slowly built up the business while I played drums and Engineered live sound in clubs & theaters. (
Basin's UP, Sharks, Fox Theater, Little Bear, ESPN Sports & many others
). After 6 years and countless National Acts (
ex: Sublime, David Wilcox, John Mayall, Flock of Seagulls, Dave Mason, etc.
) and some free-lance studio engineering and
audio consultation
, I realized that the studio was where I really needed to be. I gradually quit doing live sound and invested in state of the art
recording equipment
. The product improved as did the equipment and here we are today. We are keeping up with studios that charge twice as much and have less to show for it, when it comes to client satisfaction. Now we are keeping real busy with
music production
and recording all styles of music except Straight Rap. (
it's a music thing.
) We pride ourselves on quality recording for a fair price. Being a player myself I know the pressure an expensive recording studio can put on the musicians, sometimes to the point of failure. I have found that the more focus you put on recording Positive energy & the less focus on
money
, the better and more natural sounding the recording. The average listener might not hear the little mistakes but they can feel the energy and inspiration behind the music and they can feel if it is honest or just self indulgent wanking.
If you have any questions feel free to
Call 303-421-1319

or Email
We all have a short time to be creative & perform on this planet. The lasting Communication of Ideas, Memories, Energies, and a chance at fame & fortune, is why we record. Recording gives us a shot at creating an Energy that will live long after we moved on to that great All-Star jamm in the after-life.
Let us take you there…
Sincerely, Kc Dunn